Cable-Laying Vessel SUBARU
Cable-Laying Vessel SUBARU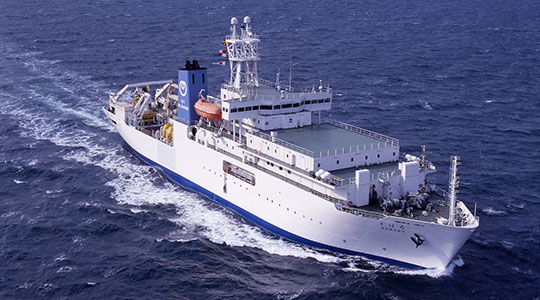 The vessel is a large cable laying vessel equipped with the DP system (Dynamic Positioning System) to control the position of a vessel, a plough-type burying machine, an ROV, and a cable laying support system. It has a number of track records of submarine cable laying works at home and abroad. The vessel can meet such a request as large-scale submarine communication cable laying works, using the-state-of-the-art technologies at all times by updating inboard equipment and developing new technologies.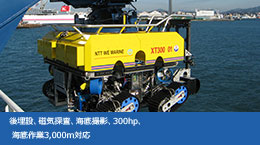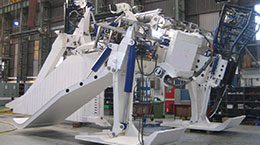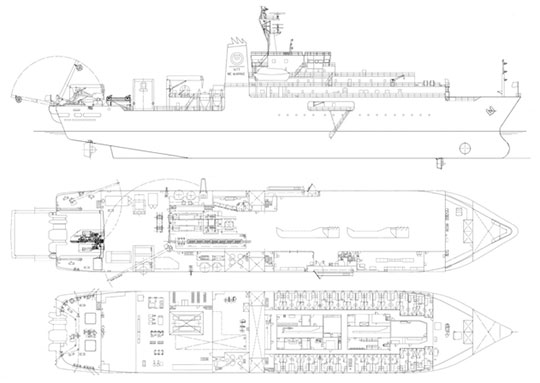 | | |
| --- | --- |
| Port of registration | Manila |
| Overall length | 123 m |
| Width | 21 m |
| Maximum deadweight draft | 7 m |
| Gross tonnage | 9,557 tons |
| Cruising speed | 13.5 knots (max. 15.4 knots) |
Maximum range

approx. 8,800 nautical miles.

Propellers/generators

Main propellers (azimuth)

2,700 kw×2

Bow Thrusters

1,600 kw×1

Bow Azimuth Thruster

1,192 kw×1

Main Generators

2,800 kw×4

Cable handling equipment

Drum-type cable engine (diameter: 4 m) x 2
21 dual-tire linear cable engine x 1
Stern Sheaves (Diameter: 3.2 m) x 3
(including flat type sheave x 1)

Cable tank capacity

No.1 Cable Tank

1,180 m3

No.2 Cable Tank

1,440 m3

Auxiliary Tank

150 m3

Total

2,770 m3

Maximum deadweight tonnage

approx. 6,280 tons

ROV

Loaded on Stern Max dive depth 3,000 m

Dynamic positioning system

SIMRAD SDP 21
(Electronically controlled navigation system,
Set Point Fixation etc.)

Navigational instruments

Radar, Gyro Compass, GPS (DGPS).
For shallow water, Depth measurement device for deep sea.

Communication equipment

Ship telephone for domestic use.
Satellite communication system, V/UHF wireless GMDSS
(MF/HF, VHF), fax, etc.

On-deck equipment

A-Frame Crane, 5-ton crane x 2, winch etc.

Accommodation

For 80 people
(crew and client representatives).

Others

PGU (Ground protection unit)
PFE (Power supply unit for relay submarine cable system)
UJ Technology (Submarine cable connecting device). etc.