Laying
NTT Marine's Cable
-Laying Connects Japan to the World-
We lay the cables paying close attention to the details of various environments, such as the contours of the seabed. Based on expertise, we maintain the quality and reliability by closely coordinating the speed of the laying vessel and the payout rate of the cable.
Cable-Laying Vessel
We introduced SUBARU, a cable-laying vessel in 1999 and have performed numerous laying and repair operations with her. The biggest feature of this vessel is the aft azimuth propellers and the fore azimuth thrusters that are computer controlled, which enables precise positional fixation and tracking of pre-scribed routes. It is also equipped with a drum cable engine, a linear cable engine, plough-type cable burying machine and the ROV.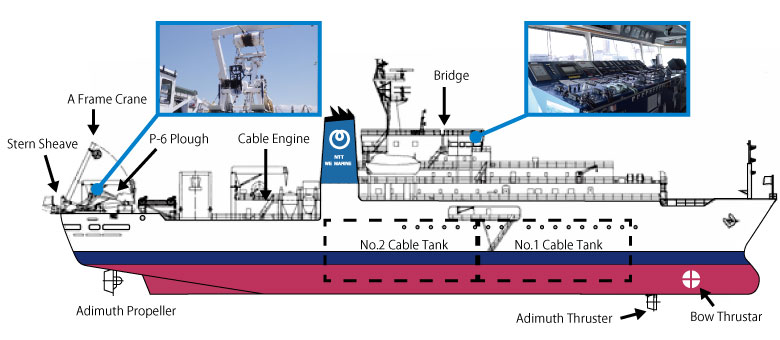 Laying Method
Inside the vessel, there are holds referred to as cable tanks that store the submarine cables.
The cables are laid along the designated route, using feed control equipment (cable drum engine, cable engine etc.).
In locations close to shore or at fishing grounds, where burying of the cables is required, the cables are buried using plough-type burying machines that are towed (by towlines while cruising) and are buried as they are being laid.
However, simply laying the cables may cause them to be suspended across uneven seabed terrain (suspension), a situation that may lead to cable damage (refer to diagram below).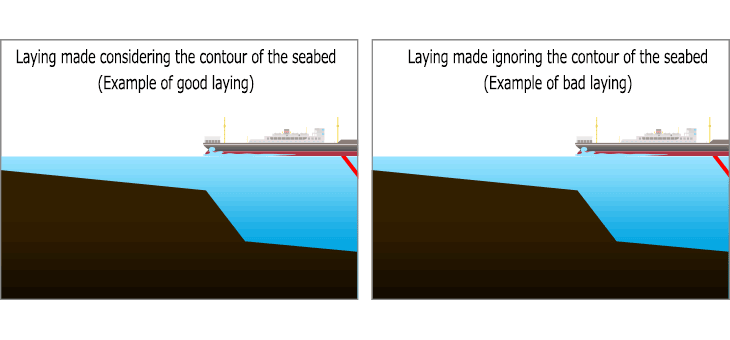 Cable Slack Control to Minimise Suspensions
The length of the cable laid is slightly longer than the straight-line distance. This allowance in the cable length is referred as cable slack and is calculated from the increase in length caused by the contours of the seabed and also for the meandering of the cable on the seabed. In order to properly control the cable slack, it is necessary to adjust the payout rate of the cable to be a bit faster, in the order of 0.1%, faster than the speed of the laying vessel. The cable ships have accurate and sophisticated slack control systems installed.